Napa cabbages, more popularly known as Chinese cabbages have sweet, crunchy, and celery-flavored leaves. With just 16 calories in 100gms of fresh leaves, Napa cabbage is incredibly low in calories. As it requires more calories to digest than the number of calories it contains, it easily fits into the neo-class of zero calorie or negative calorie group of vegetables.
Here are 7 delicious salad recipes which use napa cabbage as the base. The crunchy topping variations include crispy noodles, wontons, almonds, sesame seeds, and more…

Though the ingredient list seems rather long, this is a simple and easy-to-toss-together recipe. You can make the salad a few hours ahead of time and refrigerate it. Toss in the crispy noodles just before serving.
Ingredients:
¼ cup soy sauce
¼ cup any vinegar
2 tablespoons water
1 teaspoon sesame oil
1 tablespoon brown sugar
1 tablespoon olive oil
½ large white cabbage, shredded
1 carrot, grated
1 zucchini, sliced very thin
½ bell pepper, cut into matchsticks
1 cup sliced scallions
¼ cup toasted almond slivers
60g egg or ramen noodles, broken up
1 tablespoon toasted sesame seeds
Instructions:
Put the soy sauce, vinegar, water, sesame oil, and brown sugar in a small pot over low heat. Heat, stirring, just until the sugar has fully dissolved. Whisk in the olive oil and set aside to cool.
Put the cabbage, carrot, zucchini, pepper, scallions, almond slivers, and uncooked noodles in a salad bowl. Pour half of the dressing over and toss vigorously until every piece of vegetable is coated. Add more dressing until the salad is well dressed. The remaining dressing will keep in a sealed container in the fridge for at least 1 week.
Garnish with the sesame seeds and serve.
I prefer to substitute corn oil with olive oil. Flavor the chicken breast with spices of your choice before grilling or baking it. Rub in a dash of fresh lemon juice before shredding it for a more delicious flavor.
Ingredients:
1 whole Cooked Chicken Breast shredded
2 tbsps. Sliced Almonds
2 pcs. Green Onions chopped
1/2 head Napa cabbage chopped
Crispy Oriental Noodles broken up
Dressing Ingredients:
1 tbsp Sugar
1 tsp Salt
1/2 tsp Pepper
1/2 Corn Oil
3 tbsp Vinegar
Instructions:
Toss together all the main salad ingredients.
Mix the dressing ingredients together.
Shake well and pour over the salad when it is ready to serve.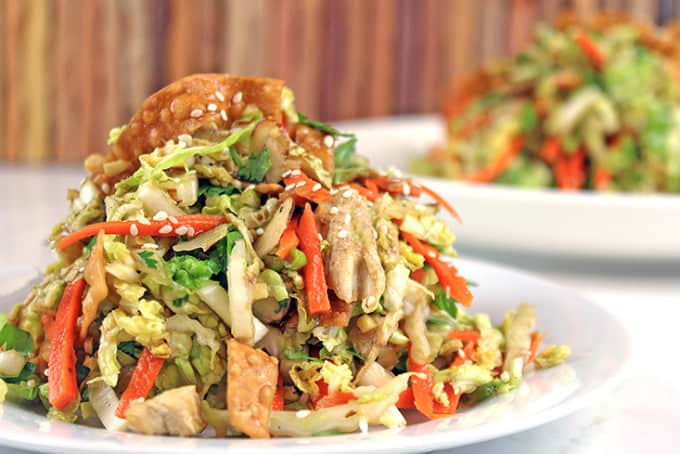 That does look like a long list of ingredients, but this salad just takes 15 minutes to put together. Crunchy napa cabbage, grilled chicken, crispy wontons, toasted almond, and sesame seeds – sounds delicious indeed!
Ingredients:
2 tablespoons soy sauce
1 tablespoon very finely chopped ginger
1 tablespoon canola oil
1 tablespoon hoisin sauce
1 teaspoon toasted sesame oil
1/2 teaspoon sriracha
1/2 teaspoon kosher salt
1 pound chicken breast
1/4 cup rice wine vinegar
1 lb napa cabbage, very thinly sliced
2 carrots , julienned
3 scallions, thinly sliced
1/2 cup cilantro leaves
1/2 cup crispy wontons
1/2 cup slivered toasted almonds
2 teaspoons white sesame seeds
Instructions:
Put the sliced almonds in a dry pan and toast on medium for 1-2 minutes until they JUST start to brown and you can smell them. Swirl them around the pan to avoid burning.
Season chicken with salt and pepper. Cook on grill pan for 3-5 minutes on each side on medium-high.
In a small bowl, whisk soy sauce, ginger, canola oil, hoisin sauce, sesame oil, sriracha, salt and vinegar.
Cut chicken crosswise into ¼-inch-thick slices.
In a large bowl, toss chicken, cabbage, carrots, scallions, cilantro, and half of the almonds with enough dressing to coat lightly.
Add in the wonton strips and toss lightly again.
Mound salad in center of 4 plates.
Re-whisk dressing and drizzle a little over and around salad.
Sprinkle with the remaining almonds and sesame seeds.
You can substitute the canola oil with any other oil you want, like olive oil or even coconut oil. Adjust the sugar to your taste or you can add some other sugar substitute like honey.
Ingredients:
1 large head Chinese cabbage, thinly sliced
5-6 green onions, sliced thin
Dressing Ingredients:
½ cup canola oil
3 Tablespoons sugar
⅓ cup rice or cider vinegar
1 Tablespoon soy sauce or coconut aminos
1 teaspoon sesame oil
Crunchy Topping:
2 Tablespoons butter, margarine or dairy-free substitute
1 Tablespoon olive oil
1 package Top Ramen noodles, broken into small pieces
1 cup slivered almonds
Salt to taste
Instructions:
Mix sliced cabbage and green onions in a large bowl.
Combine dressing ingredients in a jar with a tight lid and shake well to mix.
Pour dressing over cabbage mixture, toss to coat and set aside.
In a large frying pan, melt butter and stir in olive oil.
Add broken noodles, almonds and salt (if desired.)
Saute until noodles and nuts are lightly golden brown.
Sprinkle crunchy noodles and almonds over the cabbage mixture.
With a minty yogurt dressing and a generous amount of black olives, this Chinese cabbage salad really stands out from the crowd. Serve it at a dinner party and listen to your guests rave about it.
Ingredients:
1 medium head Napa cabbage (acelga)
1 large carrot, coarsely grated
1/2 cup sliced black olives
1 small tub natural yogurt
1 Tbsp fresh-squeezed lime juice
1 Tbsp honey
1 Tbsp finely chopped fresh mint
Salt and pepper to taste
Instructions:
Place the cabbage in a large salad bowl, and toss the leaves to separate them. Sprinkle the grated or julienned carrot and the olives on top. Reserve, preferably in the refrigerator.
In a medium mixing bowl, combine the yogurt, lime juice and honey and mix well with a fork. Add the mint and mix again. Season to taste with salt and pepper.
Serve the salad with the dressing on the side so that diners can add to taste.
The garlicky soy dressing adds a definite Asian flavor to this napa cabbage chicken salad. The combination of green snow peas, orange carrots, and white Chinese cabbage creates a very attractive-looking and delicious salad.
Ingredients:
4 tablespoons sesame oil, divided
1 1/2 pounds chicken breasts, cut into 1-inch chunks
1/3 cup sesame seeds
4 cloves garlic, minced
1/4 cup soy sauce
1/4 cup white vinegar
1/2 cup sugar
1/2 cup vegetable oil
1 medium head Chinese cabbage, shredded
1/2 pound snow peas, trimmed
1 carrot, peeled and shredded
Instructions:
In a large skillet over medium heat, heat 2 tablespoons sesame oil; sauté chicken 5 to 7 minutes, or until no longer pink in center. Remove chicken to a plate.
Heat remaining sesame oil, and saute sesame seeds and garlic 3 to 5 minutes, or until seeds are golden brown. Add soy sauce, vinegar, sugar, and vegetable oil; cook 1 minute. Stir in chicken and heat 3 minutes.
In a large bowl, combine cabbage, snow peas, and carrot. Add dressing with chicken and toss until cabbage is evenly coated. Serve immediately.
Serve the salad immediately after making it, before the crackers become soggy. You can substitute the crackers with other crunchy items like crispy noodles or wontons.
Ingredients:
Chinese cabbage – 1 pc
Cucumber- 6pcs
Smoked sausage -200 gms
Crackers- 140 gms
Mayonnaise – 4 tbsp
Black pepper- to taste
Salt – to taste
Instructions:
Chop the napa cabbage and the cucumber into thin slices.
Cut the sausage into long strips.
Add all the salad ingredients together in a big bowl and toss together.